Who says game days can't be sustainable?
Ohio Stadium is the largest stadium in the country to continuously achieve zero waste status, which refers to diverting 90% or more of materials from the landfill by recycling, repurposing, and composting. The Ohio State University has set a new standard for collegiate stadium recycling, and has ranked #1 in diversion rate within the Big Ten conference for the past four years.
Contact recycle@osu.edu for more information.
Finding a Place for Waste at Ohio Stadium
The Facilities Operations and Development Zero Waste Team partners with the "I Am Change Outreach," a non-profit mentorship program of area high school and college students, volunteers assist fans at the Zero Waste stations on game days.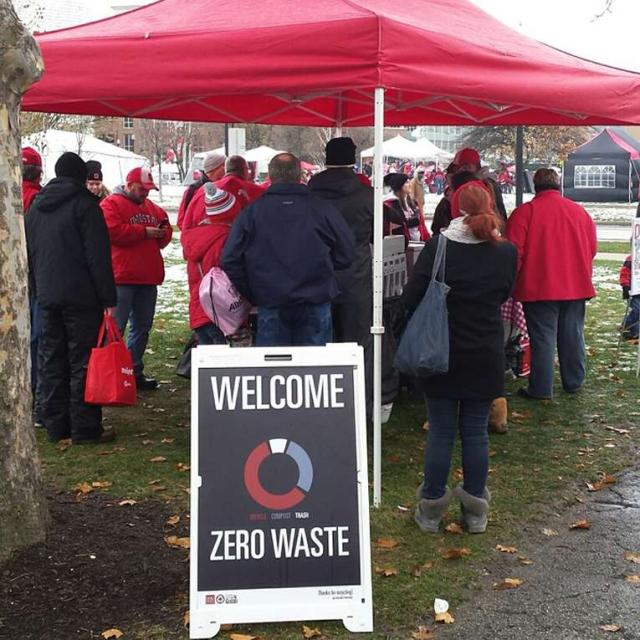 Tailgate Recycling Program
The Tailgate Recycling Program is one component of the Zero Waste Initiative at Ohio Stadium. The program works to divert tailgate materials from the landfill. Each game, Zero Waste Educators will be in the tailgate lots to engage and educate fans about proper recycling.
Zero Waste Suite Program
Sign up through our form or sign up in person at the Zero Waste at Ohio Stadium table located in the club area.
A suite must do the following:

Designate a contact person.
Educate the suite occupants about the Zero Waste at Ohio Stadium program and what is recyclable and what is compostable.
As a participant, you will receive the following:

Recognition on or near the door of the suite recognizing you as part of the program.
A post game report on your materials via email and/or flyer in the suite.
Zero Waste Suites

Nationwide
White Castle
Worthington Industries
Baker and Hostetler LLP
Gene Smith's Suite
American Electric Power
Huntington National Bank
Shelley Meyer's Suite
IMG Sports Marketing
Petropoulos
Coca-Cola
Comp Management, Inc.
Usual Suspects
Key Bank
Buckeye Partners
Viaquest Inc.
Calfee, Halter & Griswold
Jones Day
Grange Insurance Companies
NCT Ventures
OSU Fisher College of Business
OSU Wexner Medical Center
Dispatch Media Group
RDP FoodService
Emerson Network Power
Glimcher Realty Trust
Continental Interests
Swan Cleaners
Battele
Germain Automotive Partnership
Anthem Blue Cross and Blue Shield
Bundy Baking Solutions
Glimcher
Cardinal Health, Inc.
Squire Patton Boggs
MPW Industrial Services
Cassidy Family
Fifth Third Bank