Make a Request
Maintenance, Custodial, General Services
Service2Facilities receives and processes all customer service requests for maintenance, custodial and other services for buildings and residence halls on the Columbus campus. You can also contact your building coordinator.

Evenings, Weekends, Urgent Service Requests
• Phone 614-292-HELP
Construction Project Request
Use the Project Request Form for construction projects, renovation, space changes, and feasibility studies.
University Departments - visit pare.osu.edu for project requests about capital, space, physical planning, or for real estate assistance.
Wexner Medical Center Departments - visit OneSource for requests.
Signage Request
All signage must be approved by FOD. Signage request supports ordering interior and exterior signage for the Columbus and regional campuses, custom signs, construction project signs and commemorative plaques. Complete the Signage Request Form to get a quote. 
Name Plate Inserts
Name plate inserts are processed by UniPrint. Please complete an insert request.
• Signage Standards (including the Request Process on page 8)
• Signage Catalog
• Events
Contact    614-247-4587  |  signage@osu.edu
Outdoor Furniture Request
Individual departments may purchase outdoor furniture for their spaces. Fill out the Furniture Request Form to get a quote.
Please call 614-292-3673 with questions.
What are the guidelines for site furniture?
Furniture must be installed on a paved surface, and the location must be approved by the University Landscape Architect. FOD assembles and installs furniture on site at no charge to the customer. Please allow 8-10 weeks for delivery and installation.
Lock & Key Services
Lock & Key Services is responsible for providing brass keys, card access, and locksmith services for rooms and buildings.
For authorized users only - Card Access Request System
Contractors
Keys
Lenel
Keypad Account Set-up - Contact Lock & Key Services for this form
How do I make a key request?
Room & Building Keys: Start with your department, professor, or lab manager. They will assist you in requesting a key and obtaining the proper signature approval.
Card Access:  Start with your department, professor, or lab manager. They will assist you in requesting card access and obtaining the proper signature approval.
Desk & Cabinet Keys: Submit an eRequestto internal vendor "FOD - Lock & Key Services."
How long does it take to get a key or card access?
Key and card requests are normally ready within 3 business days.
What if I'm located on a regional campus?
Key Request Cards will be charged at $10 per 100 cards
Submit an eRequest to internal vendor "FOD - Lock & Key Services." There is a maximum of 500 cards per order, unless ordered two weeks in advance.
I'm locked out of my office.  What do I do?
Call 614-292-1415  Monday – Friday, 7:30am – 3:30pm.
For emergency requests outside of normal business hours, contact the Department of Public Safety at 614-292-2121.
Is there a fee or penalty if I don't turn in my keys?
There is no fee or penalty if you do not turn in your keys, but if a deposit was submited then that deposit will be forfeited.
If I lose my key, am I charged for having the locks change?
The individual is not charged, but the department would be if it requested the locks to be changed.
What if I have found or lost a key or ID?
Turn in all keys and ID badges to Campus Lost and Found at the Ohio Union.
Contact
Effective 10/5/20 - 050 Central Service Building, 2003 Millikin Road, Columbus OH 43210 (entrance on the west side of the building)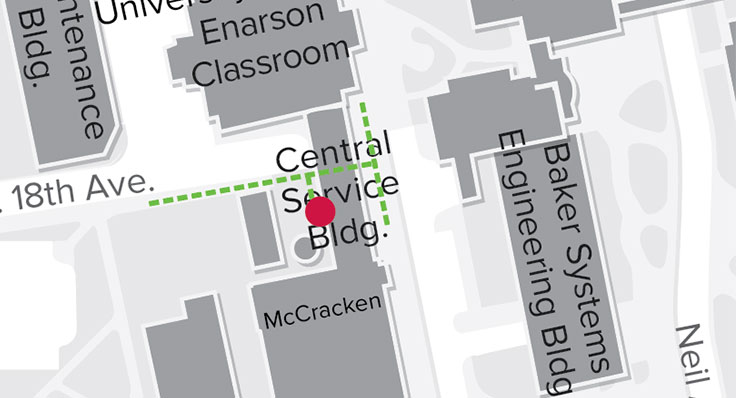 614-292-1415
for Brass Keys
for Card Access
Hours
Front Desk: Mon-Fri, 7:30 a.m. to 4:30 p.m.
Lock Shop Technicians: available until 3:30 p.m.
Planned Utility Outages
Requests for planned utility outages must be made two weeks in advance. Customers will receive a confirmation email once the outage is approved. If a two-week notice cannot be provided, the outage will be deemed an emergency outage request and must be called in to Service2Facilities at 614-292-4357. Service2Facilities will manage the request. For questions, please contact s2f@osu.edu
Planned Utility Outage Calendar